Everything You Need To Know About The Netball World Cup 2015
The Debrief: Could this be the second time this year that women kicked ass in international sport?
Remember netball? That sport at school that involved a lot of now-fashionable, kilt-style wrap skirts? Well, in case you didn't realise, the #NWC2015 is on now in Sydney, and the England national team has a ripe chance of doing pretty well as we're currently ranked #3 in the world. Here's your NTK.
What is the Netball World Cup?
Previously called the World Netball Championships, this tournament brings together the world's top teams in a different international city every four years. A sport that isn't yet in the Olympics, this tournament is the queen of the castle for Netball competitions.
In 2011 (and in 10 out of the 13 competitions since the first event since 1963), Australia has achieved overall victory. But with arguably the best England squad of all time, it looks like it could be the second time this year that our women kicked ass in international sport.
Who's in the squad?
Head coach Tracey Neville named the 12-player squad earlier this month. Long-time captain Pamela Cookey has been replaced by Geva Mentor. The world cup debut of 20-year-old Helen Housby (born in 1995, would you believe) will add some excitement to the mix, while Sonia Mkoloma will be appearing in her fifth consecutive World Cup, equalling the all-time record of the most Netball World Cup appearances by any player.
National favourites and Hertfordshire Mavericks sisters, Sasha and Kadeen Corbin, were left out of the core squad to some surprise.
The Roses starting seven: GS – Harten, GA – Cookey, WA – Greenway, C – Clarke, WD – Guthrie, GD – Francis, GK – Beckford-Chambers
When is England playing?
The fixtures for the group stages are as follows:
August 7: England vs. Scotland, 6:00am, Sky Sports 3 HD. Result: England win 60-19.
August 8: England vs. Jamaica, 8:15am, Sky Sports 5 HD.
August 9: England vs. Samoa, 7:15am, Sky Sports 3 HD.
As the top-seeded team in the group, England is expected to progress to the qualification rounds which will run between 11-14 August. The semi-final is on August 15, and the grand final on August 16. All fixtures can be viewed here.
Where can I watch it?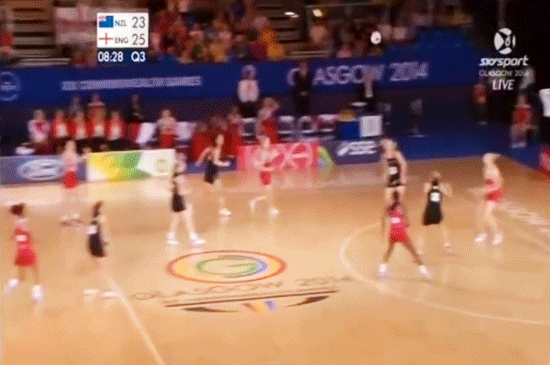 Sky Sports and Now TV will be the only place to follow all the action from the tournament showing every England game and at least three matches every day, including the semi-finals and the final. Sme games including the opener are available for free on the Sky Sports website. Be warned, you will have to wake up early to watch it due to the time difference being +9 hours to our BST. So get the coffee a-brewing.
OK, now I'm hooked. How can I get back into it?
Have we whet your appetite enough to put netball back into your life? It's honestly a great way to meet people and I guarantee they are the best kind. Don't be afraid if they seem scary at first, it's all just passion.
England Netball is working hard to help you forget the scary days of being forced to play goal keeper in the freezing cold all winter. Nowadays, it's all about a fun way to get some exercise and being at the forefront of sport for women, with over 156,000 women playing weekly in England alone – and that figure's on the rise.
An easy way in is to sign up to a social league, where you play weekly matches with no strings attached. Try Netbsuters, Go Mammoth, or Powerplay. EN also run Back To Netball and Netball Now sessions all over the UK if you're after something with no commitment, or a quick Google will guarantee to find you a local club.
Better than going to the gym, I say.
Liked this? You might also be interested in:
It's Time For Us To Get Over Our Schoolgirl Fear Of Exercise
Here's Why It's Time To Take Up Netball For The First Time Since You Were 15
Forget The Men. The England Women's Football Team Actually Win Games
Follow Anna on Twitter @annarosejay
At work? With your gran?
You might want to think about the fact you're about to read something that wouldn't exactly get a PG rating