7 Harry Potter Plot Holes Which Will Bug You For Days
The Debrief: From Hagrid's conception to Harry's terrible eyesight, here's a few bits of Harry P that didn't add up.
We all know Harry Potter is the high watermark of great British literature. We're all on the same page with that one right?
Right.
Sadly though, even works of genius come with a few mistakes. Like in Miracle on 34th Street; if the adults didn't believe Santa was real, then how did they explain the presents that showed up under the tree every year?
SMDH.
Harry Potter is also not immune when it comes to plot holes and today on Reddit, irked readers are sharing their biggest bugbears about the series. Stuff like...
1. This obvious one
'I always wanted to know why Hermione didn't just use the Time Turner to also take more naps so she wasn't so strung out.'
2. This one about polyjuice potion
'To me, it's that everyone always approaches situations where they meet someone else in good faith, assuming that person is who they say they are. Transfiguration and Polyjuice Potion are used repeatedly throughout the series to create convincing disguises, and yet people still don't reach the obvious conclusions when their best friends or significant others are acting strange.
It's always just "Hey what's gotten into you today?" not "Uh, are you really who you say you are or are you using one of the many widely known ways of taking on the appearance of another person?"
I realise that things like Polyjuice and Transfiguration are fairly complex potions/spells, but it seems like most of the wizards we meet are at least aware of them, and they're used so frequently throughout the series that people should at least approach situations with more scepticism than we see.'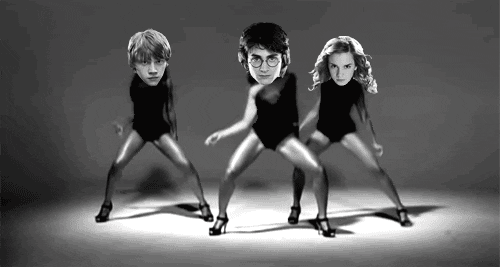 3. This one, which might reveal Dumbledore's evil side
"The troll is in the dungeons"
"All students please return to your house dormitories"
LIKE WTF DUMBLEDORE. I MEAN I KNOW YOU PROBABLY KNEW THE TROLL WASNT THERE BUT WHAT IF IT WAS? THATS WHERE THE SLYTHERIN AND HUFFLEPUFF DORMS ARE!!! THE DUNGEONS!!!
'It's not a huge plot hole, but it's such a convenient coincidence that they always seem to go back to Hogwarts on the 1st of September and yet the next day is always a Monday.'
'The fact that despite having seemingly infinite possibilities for magic, they can't be bothered to fix Harry's eyesight.'
'Not exactly a plot hole, but something that always irked me:
The entire wizarding world (or Muggle Borns at least) are operating their lives as adults with only a 6th-grade level understanding of Math, Science, English etc.
I know the community is really insular and as a result have implemented magical ways to get the same or better result than Muggle inventions, but learning higher level means of problem-solving, rationalisation, and communication are still important.'
7. And this, very disturbing one
'How exactly did Hagrid's father (by all accounts a very small man) manage to impregnate a full blooded giantess?'
At work? With your gran?
You might want to think about the fact you're about to read something that wouldn't exactly get a PG rating