There's A Gilmore Girls Coffee Subscription Service And We Want In
The Debrief: Only one catch...
As every Gilmore Girls fan knows, coffee is everything. Us millennials are pretty much the same as Lorelai and Rory, aka nothing without a cup of coffee in the morning, mid-morning, early afternoon, after lunch and then after work. You get the picture right, coffee is life.
So just in time for the Gilmore Girls revival, online coffee subscription service, Boca Java, have started a line of Gilmore Girls coffee. The Stars Hollow Coffee Club has a variety of five different Gilmore Girls inspired flavours – our favourite is 'Luke's Non-Nonsense Special.' I would explain what this means, but if you are reading this article then you are most likely a big Gilmore Girls fan, aren't you? According to the website, Luke's coffee is a medium roast coffee blend with a full-body, citrus fruit and honey notes, sparkling acidity and a clean finish. Well, doesn't that sound delightful.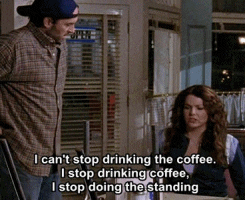 You can even pick how often you want your coffee delivered – so every day am I right? There is one catch, Boca Java currently only ships within the United States, yes I am as gutted as you. I'll just go buy my Pret coffee and cry into the cup. Love you really though, Pret.
Like this? You might also be interested in…
The Official Gilmore Girls: A Year In The Life Trailer Is Here And Oh My God
How Gilmore Girls Set Up Us To Be The Forward-Thinking Feminist Women We Are Today
How To Make Great Coffee At Work
Follow Alyss on Instagram @alyssbowen
At work? With your gran?
You might want to think about the fact you're about to read something that wouldn't exactly get a PG rating