The Best Etsy Sellers To Visit When You Need To Buy Wedding Presents
The Debrief: Because wedding lists are for losers
Because you're better than a boring old wedding list (and also because you forgot to look at the wedding list and now the only thing left on it is a nutcracker that's solid gold and costs £300), take your wedding gift off-piste and head over to Etsy.
We've rounded up the best of the best of the Etsy sellers who make excellent wedding gifts, so you've got more time to plan what you're going to wear.
If you're into personalising but not in a lame way
I mean those cutesy personalised things you can buy to commemorate a couples' love through the medium of Comic Sans font? Not A Thing. Anyways, Bonnie and Bell have a great selection of vintage display letters so you can make your gift personal without going OTT. They also have a great selection of vintage biology posters but we're guessing that's not really appropriate, here.
If they're the 'cool' couple of your friendship group
So happy they got that New York-esque loft apartment, aren't you? Seeing as they're going to be hella picky about what sort of thing goes IN their very nice flat (they definitely didn't do the IKEA trolley dash that you did), then check out Rat & Pallet for their super-minimalist homeware. Like these repurposed pipes that are now egg cups. Also, give BobCool a try. He's got some very cool kitsch lamps that'll go a treat in a loft apartment.
If you're just gifting her
If it's her who's your actual friend, then you can totally get away with getting her a really nice piece of jewellery. Check out Pouss who designs lovely pieces that look a lot more expensive than they are. There are these personalised necklaces, which don't look lame (the 'Carrie' necklace has totally had its day, when will people learn?), and plenty of necklaces that come in twos (check these out) like grown-up friendship necklaces, so you can remind her than even though she's now married to him, you're around and still need attention.
If they've already got loads of stuff
Because let's face it, everyone who's getting married these days have already been living together for like, ever (sorry Nana) and so they all have their kitchenware covered. In that case, head over to CinaCeramicDesign for a really nice one-off piece of kitchenware. Check out this rather rude bowl, or this bowl that's held up by fingers or this one THAT'S HELD UP BY ASPARAGUS.
If they're a bit mad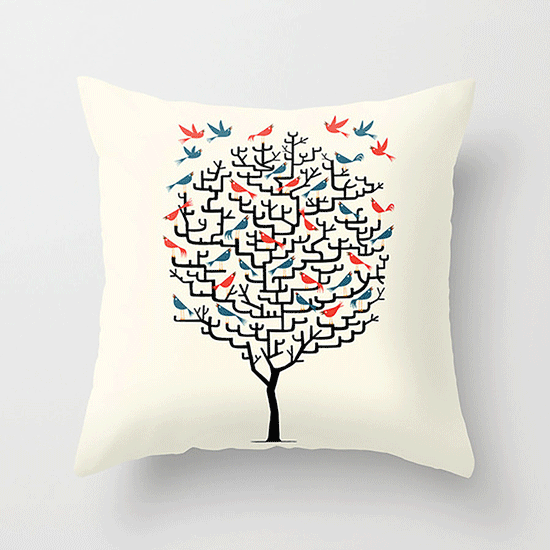 They were definitely the ones that were in the drama club at uni. Or circus club. If you were lucky enough to have a circus club. I wasn't and I'm not sure how many other people were, but I definitely would have joined the hell out of any circus club.
Anyways. Check out Iota Illustration, who does really cool cushion covers that are just as bright and fun as the couple in question. We're into this one and also this one but most of all this one. Alternatively, you could just purchase them all for us.
If they just like things to look nice
Then check out a seller who's created some lovely designs and used them on lots of different things. Annabel Perrin does some unbellievably pleasing-on-the-eye prints that she's put on lampshades, tea towels, cushions and notebooks. She even sells the fabric if they're into DIY-ing. This pattern is the best, but then also this one, and this one and also this one. Oh God. All of them. In my face. Now.
Like this? Then you might also be interested in...
The Truth About Wedding Night Sex
Calling Bullshit On The Magic Of Bridal Appointments
Follow Jess on Twitter @Jess_Commons
At work? With your gran?
You might want to think about the fact you're about to read something that wouldn't exactly get a PG rating