That Japanese Wrapping 'Hack' Is Bloody Impossible And You Shouldn't Bother Unless You're A Wizard
The Debrief: According to the internet, this Japanese gift wrapping method is the super easy, totally foolproof way to wrap your presents this Christmas! Well, we tried it out and learned for the 97th time this year that the internet is nothing but LIES.
For the last few days, the internet's been really excited about a Japanese gift wrapping technique.
Basically, you turn the paper diagonally, employ origami folding techniques and end up with the neatest bloody present you've ever seen in your life.
Even better, it looks really easy.
So, with Christmas around the corner, could this finally be the answer to our gift wrapping woes?
We decided to find out.
First up, here's the original video...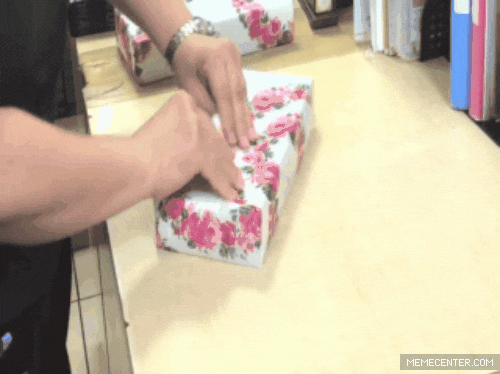 Such poise, such elegance.
Here's our attempt.
As you can see, mere mortals shouldn't even bother attempting to replicate this wizardry. Gift wrapping like this is best left to the professionals. In fact, gift wrapping in general is best left to the professionals. This year, get your mum to do it all. Thanks mum!
Like this? Then you might also be interested in:
Probably The Best Harry Potter Tree You'll Ever See

How To Decorate Your Shared House For Christmas For Less Than £10

If You Watch One Christmas Advert This Year, Make It The Alzheimer's Research One
Follow Jess on Twitter @Jess_Commons
At work? With your gran?
You might want to think about the fact you're about to read something that wouldn't exactly get a PG rating