How To Make Bounce Protein Balls At Home
The Debrief: You know those crazy expensive Bounce balls that everyone's buying? Here's how to make them at home for next to nothing.
Getting hungry at your desk an hour after you've eaten brekky but it's not yet an acceptable time to tuck into lunch? We get ya.

Snacking is my own personal diet let down, I can do great with set meals, but in between I find myself reaching for the crisps/biscuits/anything calorific to hand.

Enter – balls of raw protein power! This super easy no-bake recipe is inspired by the Bounce Peanut Protein Balls that everyone is gobbling up at the mo.

The Bounce Balls are great, and everywhere we turn we're being told that high-protein diets are the way to go, keeping us fuller for longer. They're certainly protein packed, but expensive with it, at £30 for a pack of 20… Eeek!

With our recipe, although it may require you to spend a little more initially, as the protein powder and flax seed used come in large bags, you can make the balls again and again, working out so much cheaper in the long term when you get addicted to these amazing tasting bad boys (trust us).

We can't tell you how good these little snacks taste, the vanilla mixed with peanut butter is a dream, it definitely satisfies our mid-morning cravings.

Let's talk ingredients. Protein Powder, while, yes, it has sweeteners, is a great way to get a high content of protein gram for gram, which can otherwise be expensive to buy. We love My Protein's Natural Vanilla Whey powder as it uses less artificial ingredients than other brands. You can only buy it in a 1k bag, which may seem expensive, but add one scoop of the powder to milk and you've got breakfast shakes that'll keep you full until lunch sorted for weeks on end.

The agave syrup in this recipe binds our protein balls together. It's amazing stuff. Giving you natural sweetness from a plant source while still having a low GI, it's the health world's sugar alternative. Add it as a sweetener to healthy baking recipes, or to plain Greek yoghurt and fruit.

I know we've just talked about how poo is taboo, but seriously, Milled Flax Seed is amazing for digestion! Linseed is great, but your body can't absorb it, with Flax Seed you get the digestive benefits while absorbing the great omega content too.
No Bake Vanilla & Peanut Butter Protein Balls
Ingredients (Makes 18 balls)
90g whey isolate protein powder in Natural Vanilla
90g milled flax seed (you could use ground almonds/hazelnuts)
420g crunchy peanut butter
2 1/2 tablespoons agave nectar, light and mild
Three tablespoons roasted hazelnuts (optional)
What to do
Throw everything in a bowl and mix like you've never mixed before! (We told you it was simple).
Use your hands to bind the mixture together, then split into small balls
Roasted hazelnuts taste so good on top of the balls, we sometimes add a few sprinkles of the chopped nuts at the end, pressing them into the balls slightly.
Place onto a plate/tray and into the fridge for 15 mins to firm them up.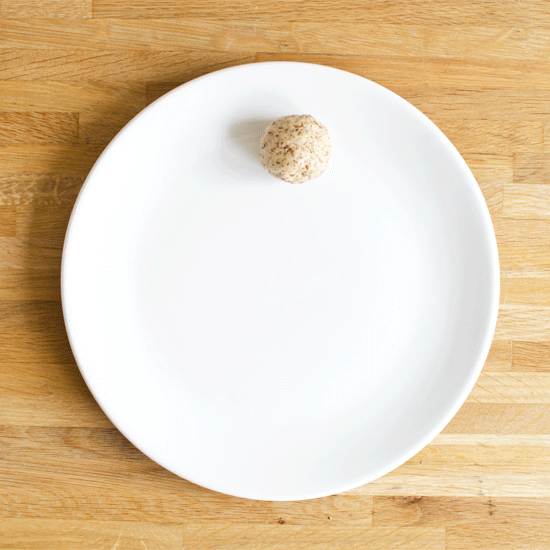 Volia! Ready to eat. We keep ours in a Tupperware in the fridge, good news though if you want to make a whole load of these – they can also be frozen.
*Extra Protein Ball Hack Alert* You could mix a few chocolate drops into half of the mixture, for a yummy but not too naughty treat!
Like this? You might also be interested in...
Here's Some Pinterest-Worthy Salads To Make To Take For Lunch
How Much Sugar Is In The Alchohol You're Drinking?
YUM (And Healthy) Banana Bread Recipes To Make This Weekend
Follow Jenny on Twitter @JennyBrownlees
At work? With your gran?
You might want to think about the fact you're about to read something that wouldn't exactly get a PG rating