Bring On The Cake: Eating Chocolate For Breakfast Has Serious Health Benefits
The Debrief: It's time for something a little more decadent for your breakfast.
Gone are the days of making homemade granola on a Sunday night because you're going to be dead healthy that week. Forget the porridge oats, green smoothies and whatever else we eat come 9am to give us our morning boost – because it's time for something a little more desiccant for your breakfast. OK, we're going a little OTT here, please don't throw away you're expensive Lizzie's Gronola, but you can lighten up a little according to food trend expert, Liz Moskow. Liz told Food Business that a 'wake and cake' approach to breakfast could actually help with weight loss and health. Her recent studies link dark chocolate consumption to positive health benefits, such as memory and focus, if consumed in the early hours.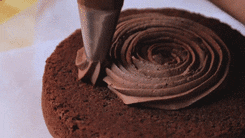 Eating chocolate supposedly prepares you more for your workday, according to the study by Syracuse University. This along with research from the Tel Aviv University show that eating dessert at breakfast supports weight loss, more specifically if it's chocolate cake. So does this mean that if we eat a bit of dark chocolate or cake with our morning oats we'll complete our 'to do' lists within an hour, smash a workout and manage to have three meetings back-to-back without feeling tired? I mean, probably not, but if science is telling us to eat more chocolate for breakfast, we'll take it.
Like this? You Might Also Be Interested In…
The No Bake Chocolate Cake You Can Make In 1.5 Minutes
Nutella-Style Chocolate Slices Are A Thing
Gizzi Erskine: 'What The Fuck Happened To A Classic Chocolate Cake?'
Follow Alyss on Instagram @alyssbowen
At work? With your gran?
You might want to think about the fact you're about to read something that wouldn't exactly get a PG rating