The Ultimate Pyjamas Guide: Every Pair You Could Possibly Need Whatever You Have Planned This Xmas
The Debrief: Because you don't want to wear the short shorts your wear at home in front of your bf's dad
One of our favourite things about Christmas is that it's an excuse to wear pyjamas all day, every day. But being stuck in a close quarters with your family, random relatives you haven't seen since last year, or your boyfriend's family, can over complicate normal, simple things. Like what pjs to wear.
You've probably got your own routine where nightwear is concerned, whether you're an old T shirt and boy shorts kinda gal or a skimpy cami wearer, but the likelyhood is they won't suit the various set-ups you've got to survive this Christmas.
So we've done a run down of all the types of pjs you might need, whether you're just chilling with your folks, or on your best behaviour at your bf's house. Here goes:
The PJs If You're Spending Xmas With Your Cool Housemates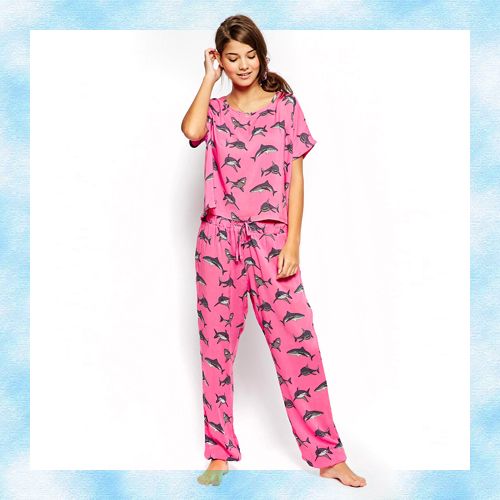 Pyjamas, £32, Asos
It's likely that your Christmas dinner will be burnt, and there will be a weird mis-match of cutlery and chairs around the table, but the good news is you can get drunk in your pyjamas - all day long. So you're going to want a fun pair, like this candy pink set from Asos with sharks on it.
The PJs You Can Instagram To Guarantee Likes
Pyjama pants, £200, After Party
Nothing says 'my life is fabulous' like a pair of silk pyjamas. You probably can't afford to get the top as well as the bottoms, but find yourself a plain white T, throw these marble effect trousers on, and you're ready for your selfie.
The PJs To Buy If You Never Normally Wear Pyjamas, But Now You Need To Pretend You Always Do
Pyjamas, £14.99, H&M
Usually sleep in the buff? We feel you. If you're going to be forced into wearing actual nightwear this Christmas (usually due to the presence of wandering small children who shouldn't see your midnight streak to the loo) then buy a reliable but affordable pair from H&M. They look just like normal pyjamas that everyone wears, trust us.
The PJs To Wear If You're Spending Christmas At Your Bf's House With His 'Rents
Pyjamas, £95, J Crew
Ever feel like virtually everything you wear/say/do/eat while you're at your bf's house is being silently judged against a tick sheet? Don't lose points for your pyjama choice. While his dad might not mind your usual hot pants, his mum is likely to be less enthusiastic. Pick a chic, long pair that suggest you've got your shit together, like this burgundy striped set from J Crew.
The PJs For When It's Just You And Your Family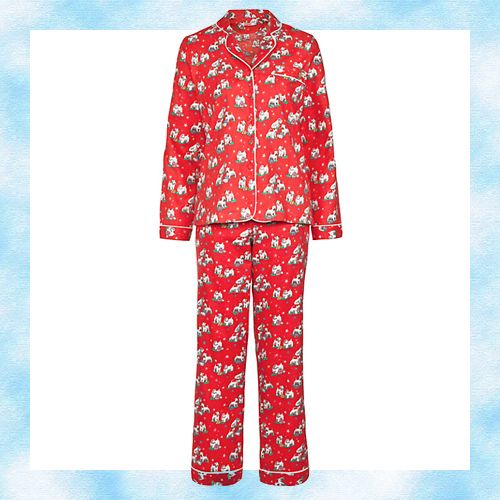 Pyjamas, £50, Cath Kidston
There are few situations where you will be comfortable wearing a bright red two piece covered in festive dogs, but holed up at home with just your mum/dad/sibling, you're probably cool with it. Don't be surprised if you regress into wanting fluffy slippers too.
The PJs To Wear When Your At Your Parents Home With The Heating Full Blast And It's Boiling
Pyjama top, £32, bottoms, £28, Bodas
Where your parents get the money to keep their house at average sauna temperature, you will never know. But make the most of the tropical temperatures and buy a short set that you can wear again at your own place next summer. Once the sun has warmed it up.
The PJs To Put On After You've Eaten 1kg Of Turkey
Pyjama bottoms, £52 Calvin Klein at Asos
The satisfaction of putting pyjamas on post Xmas dinner is one of the few real delicacies of the festive period. Take note to the necessary comfort factors: soft, long, and with an elasticated waistband. The last one is crucial, to accommodate additional Quality Street and booze.
The PJs For If It's Just You And Your Boy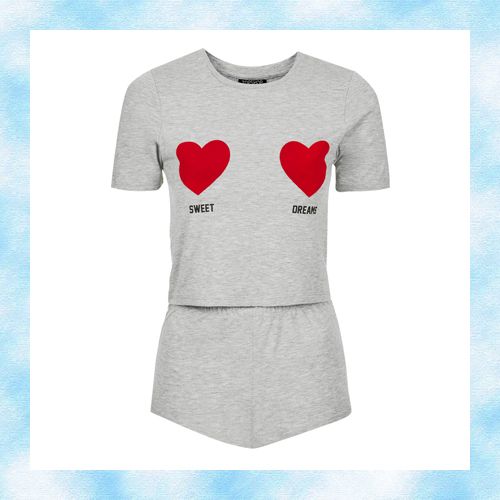 Pyjamas, £22, Topshop
If you can be bothered to throw on a tortuous silky chemise and strutt about in stilettos for sexy Xmas vibes, then we salute you. But most of us can't. The closest we're going to come to is wearing itsy bitsy shorts with hearts on our boobs. It's a win win - comfortable, and vaguely beguiling.
The Pjs You Can Actually Wear Out Of The House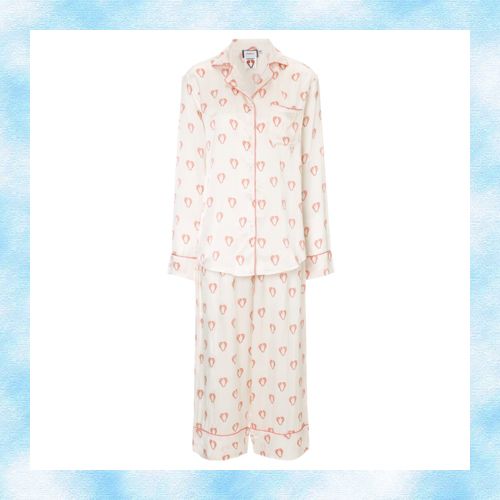 Pyjamas, £325, Shrimps at Avenue 32
The pyjama suit is a huge thing at fashion week - editors wear them left, right and centre and they can look bloody brilliant. Now we know this look is a bit of a departure from your usual get up, so maybe don't wear the whole suit in one go - try the shirt over boyfriend jeans, or the trousers with a black roll neck.
Like this? Then you might also be interested in...
Here's How To Do The Most Epically Festive Nails, That Will Last You Right Through To NYE
Let This Legion Of Fashion Girls Show You How To Wear Double Leopard Print
These Aren't Any Old Boyfriend Jeans, These Have Fluro Fluff
Follow Charlie on Twitter: @Charliebyrne406
At work? With your gran?
You might want to think about the fact you're about to read something that wouldn't exactly get a PG rating