The Definitive GIF Guide As To How To Wear Sheer This Party Season
The Debrief: In a 'sheer panic' over this season's hottest trend? Now there's no need.
It's time to paaartaaay. Which in itself brings a whole load of outfit dilemmas - how to look dressed up and festive without freezing your ass off, combined with not wearing the same party outfit as everyone else you know, combined with not wanting to squeeze mince-pie fed body into anything revealing. But we have the solution: all things sheer.
READ MORE: Fashion Blogger Glamourai Tells Us Her Favourite Secret Shopping Spot
Sheer stuff is great because it allows you to show some skin without baring actual pasty flesh. Think of sheer things as the Instagram filter for your wardrobe, if you like. Henry Holland and Simone Rocha both sent cool sheer outfits down their a/w 2014 runways, but it's a tricky one to pull-off without the right inspo, and also the right underpinnings - so make sure you've thought your pants and bra through if you're going to show them off.
Here's our guide to wearing barely there bits...
Layer Under Tailoring
A sheer skirt sounds like quite a scary idea - even if it does have some level of lining. Frankly it's bad enough having to deal with VPL when you're skirt isn't cling-film esque. But if you do some savvy layering, like putting this sleeveless blazer over a roll neck, it will cover your ass to just the right point. Picking a coloured sheer item also makes you feel less naked than a white or clear piece - pair pastels with grey for a contrast.
Skirt, £65, cashmere roll neck, £100, Warehouse, necklace, from a selection at Bimba & Lola, sleeveless blazer, £59, Topshop
Cover A Cropped Top
Ever wish you could wear cropped things but just don't feel like you've got the confidence to whip out your midriff? Us neither. Try wearing a sheer T shirt over your cropped under layer, and add a blazer to leave just a gauzey panel showing. Plus added warmth!
Sweater, £36, Topshop, trousers, £90, French Connection, T shirt, £50, Urban Outfitters, vintage blazer, £22, from a selection at Beyond Retro
Sheer Under Leather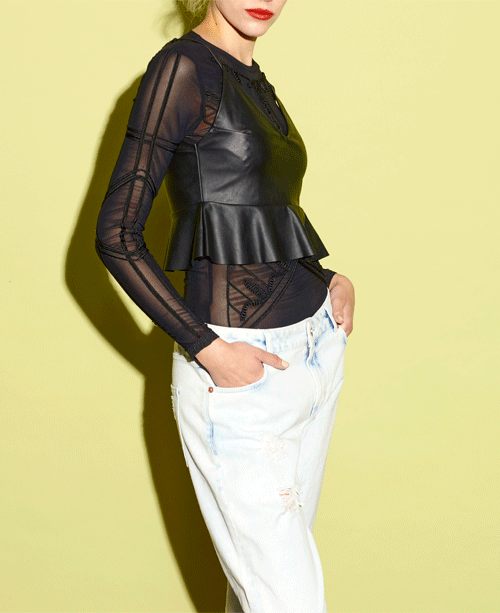 If you wore this leather bralet without anything underneath it, chances are you would probably feel a tad exposed. And a tad chilly. Putting a long sleeved sheer top with embroidered bits under the tiny top not only covers you up a bit, but also amps up the edgy boho-rock vibe going on here, without making you feel buttoned up to nun proportions.
Top, £29.99, H&M, bralet, £7.99, H&M, jeans, £40, Monki
Pick A Maxi Dress
This couldn't be simpler - find a great sheer dress that exposes the bits you like, and has an inner lining to cover the bits you don't want hanging out. You could wear this dress to formal family festive things, or add kooky accessories and wear it to a house party.
Dress, £85, clutch, £15, Urban Outfitters
Like this? Then you might also be interested in...
Here's Some Seriously Stylish Girls To Tell You What To Buy Because It's Payday!
This Troop Of Fashion Girls Will Show you How To Wear Winter Brights
How To Wash Your Jumpers, Without Calling Your Mum
Follow Charlie on Twitter @Charliebyrne406
Photographs: Marco Vittur; Styling: Grace Joel; Hair & Makeup: Lucy Joan Pearson; Model: Mia @ M+P
At work? With your gran?
You might want to think about the fact you're about to read something that wouldn't exactly get a PG rating