Stripes Are Back! Now Let Instagram's Coolest Girls Teach You How To Wear Them
The Debrief: It's fair to say 2015 is going to be a total stripe out
Let's be honest with you, stripes aren't inherently all that exciting. First of all, there's the fact that from birth we're issued with a warning sign about them, stating that under no circumstances must we ever have a dalliance with one that is over a 45 degree angle, as it will categorically add 15 stone to us.
Then there's the fact that there are lots of boring stripey things – mostly traffic related – and nothing all that sexy. A stick of rock is about as good as it gets, I reckon.
But when worn well, stripes can be just as effective as other prints that you rely on, like polka dots, digital images and plaid. They're another tool in your pattern arsenal, and quite frankly, there's something that's just a bit damn cool about stripes, in a laid-back, androgynous kinda way.
Take your cue from Raf Simons at Dior (who bravely brought back the chevron this season) and these cool girls we've found who know how to work simple stripes to the max.
Try Patches Of Stripes
This coat with small patches of mochrome stripes is a great example of how you can work stripes into your overall look without wearing a full-on bar code-esque item. It's made more effective when paired with the monochrome daisy socks, although if you want to be really on-trend for next season, I would pick a vibrant handbag, in orangey-red or cobalt, to sing out from all that black and white.
Loose Fabric Will Soften Your Stripes
Many people think of stripes as being unforgiving and harsh, which can be the case if you pick a rigid, tailored item. But this blouse shows how they don't have to look like an iron rod. In a flowy, relaxed fabric they almost look chilled out. If you're feeling even braver, turn the look topsy turvy, and wear wide-legged, billowing trousers.
Pin Stripe Doesn't Mean Boring Officewear
Whenever I hear 'pin-stripe' I think 'man who works in recruitment', which probably isn't all that fair. This pin stripe look is striking, thanks to the clashing directions of the stripe and the mid-blue tone of the fabric, although you might even be able to get the same look with a more traditional charcoal grey.
When you've got this much pattern going on, you want to keep the silhouette simple, so minimalist shapes like this caped crop top are a good idea. With accessories, it's a fine line – if you feel confident enough to experiment then go for it, otherwise stick to minimal shoes and bags.
Multi-Coloured Stripes Can Feel Contemporary
These trousers make the whole outfit here, giving the starting point colours for the entire look. You can get Henley inspired stripes on all sorts, from blazers to scarves. Pick one item with a combination of colours that you like, then build the rest of your look around the colours contained in your stripe. It's basically a stripey outfit by numbers.
Do The Zig-Zag Like Jourdan
Drapey zig zags are super flattering to the figure as they lead your eye inwards to frame it. You could easily wear a bold striped top like this one with some colour, though, if you're scared of looking a bit Beetle Juice. Try a pair of pale denim boyfriend jeans with a bit of fraying to soften up the look.
Do The Detail
How awesome is this stripe-edged backless shirt? Just a twist of a stripe can add a fun edge to a tailored, stiff look. You can always buy striped grosgrain ribbon from a haberdashery and tack onto a shirt you already own –no need to splash out.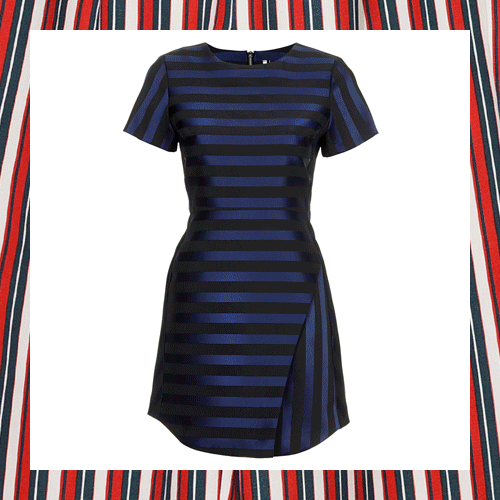 Dress, £70, Topshop; Trousers, £25.99, Zara; Shirt, £38, Topshop; Long sleeved T, £45, Obey Kirche at Urban Outfitters; Navy striped top, £175, Charles Anastase at Avenue 32
Like this? Then you might also interested in...
Here's Everything You Need To Get Your Own Miss World Face
Let This Legion Of Fashion Girls Show You How To Wear Double Leopard Print
Nails Inc And Victoria Beckham Collab On Two Totally Festive Nail Polishes
Follow Charlie on Twitter @Charliebyrne406
At work? With your gran?
You might want to think about the fact you're about to read something that wouldn't exactly get a PG rating