Here's How To Make Your Old Boring Breton Top Cool For Now
The Debrief: Riviera chic to new wave punk - it's the most malleable piece of clothing you'll ever own
You know what's better than looking 'on trend'? Finding a piece of clothing that's so stylish it hasn't been out of fashion for a freaking century. Yes, I'm talking about the Breton top. Launched on the fashion scene by Coco Chanel after she clocked French fisherman looking ridiculously chic in their stripy jerseys, it's become that mystical fashion unicorn - a piece that looks good on every age, gender, shape and size (screw diktats like 'horizontal stripes are unflattering') and is so stylish it's BEYOND mere fashion.
I have a stupidly large number of Bretons clogging up my drawers. They're like red lipstick, white Converse or Levis 501s - an instant, lazy way to look good requiring minimal effort on your part. None of them were pricey - like jeans, the Breton is a perfect piece of design that can't be improved upon with fancy embellishments or luxe fabrics.
READ MORE: A Striped Dress To Help You Look Like Sienna Miller (A Bit)
With its clean, graphic stripes, a Breton smartens up a scruffy outfit - adding a crispness to shredded boyfriend jeans and white sneakers - but equally it can add a touch of indie insolence to a smart look - think of a classic black tux worn with a slouchy Breton tee underneath instead of a silk blouse.
You can go all Ralph-Lauren-Hamptons-fancy by wearing one with white jeans and a blazer (and if you manage to do this look in real life, grubby public transport and all, I salute you my friend), or go to the other extreme with a New Wave post-punk vibe in skinny jeans and battered hi-tops. OR why not try Riviera style with a circle skirt and espadrilles. It's the ultimate fashion chamaeleon, shape-shifting between genres and eras...
With the March publication of fashion historian Amber Jane Butchart's new book, Nautical Chic (£24.95, Thames & Hudson), it's the perfect moment to pay tribute to this wardrobe stalwart. I asked Amber about why she thinks the Breton is so timeless, wearable and just generally uh-mazing.
'I think the striped top has perennial appeal as it developed from fishermen's tops and then became part of French naval uniform. There's a long history of artists moving into fishing villages and setting up communities, so very early on it came to be associated with a stylish unisex leisure look, from the Riviera set in the 1920s. Because it has that French element it's seen as very chic, even though it developed from work wear.'
READ MORE: We Try On All The Sassiest Stripes At Zara So Now You Don't Have To
'It was adopted as part of the uniform of counterculture from the 1950s onwards - from Jean Seberg through to Edie Sedgwick, Joan Baez, Patti Smith, The Ramones, Kurt Cobain - the list is endless! It's still somewhat unique in that is has become a marker of effortless classic French chic but can still garner countercultural associations. It remains one of the only fashion staples that can look both bourgeois and bohemian.'
'My favourite Breton image I came across while researching the book was an image of F. Scott Fitzgerald in 1924 - which was just when they began to be worn as a style choice, not just as work wear. He's wearing it with plus fours and a matching suit jacket, with knee-high check socks. It's SUCH a good look.'
How to style the Breton for SS/15:
1. Under dungerees
If you were lucky enough to bag the pair from the Alexa Chung for AG Jeans collaboration, good for you. For everyone else, this H&M pair will do nicely thanks - with your Breton tee, mules and hands stuffed in pockets. Those who aren't quite courageous enough to wear full-on dungas (ie. me) can play it safe in Zara's dungaree dress which earns extra fashion points for buttoning up the front in proper '70s style. Wear with brown leather knee high boots while it's polar, then swap to clogs in the summer.
2. With flares
Ah flares, another sign of the '70s revival that's too prevalent to ignore right now. For this look imagine Lauren Hutton striding around in a high-waisted denim pair and a tight, Breton-esque stripy tee, all freckles and sun-kissed curls. Good ol' M&S has a snazzy pair - nice high waist, patch pockets on the front and a worn, mid-blue wash. £35
3. Oversized over silk
An elongated silhouette is another SS15 trend that's easy to adopt - just buy a massive Breton sweater (try the men's section at Land's End) and wear it as a dress with tights and clompy shoes, or if you require a little more substance to an outfit, add a silky bias-cut slip dress underneath - we rather fancy one from Rosie H-W's new M&S collab (£89, M&S).
4. Clashed with florals
Floral prints were all over the Spring Summer catwalks and a skirt with a bold, bright bloom all over it makes a powerful partner to a Breton. Topshop has the best selection - take your pick from foil prints, minis, midis and embroidered numbers.
Best Bretons to buy right now: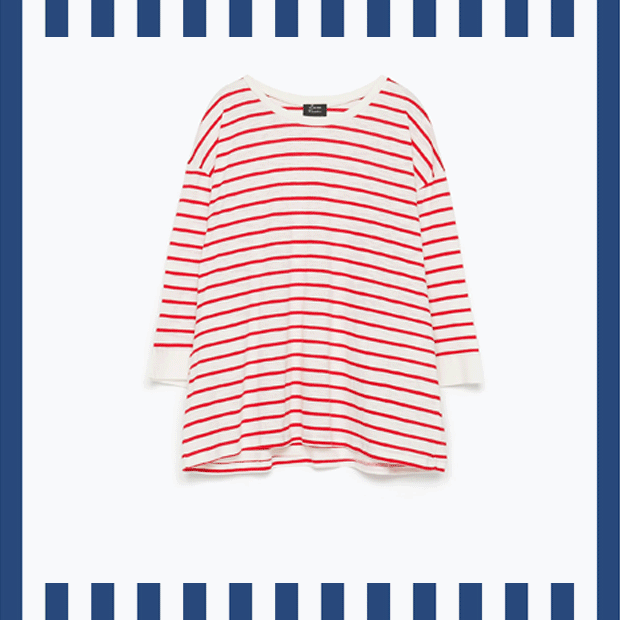 Topshop Breton lace jumper, £40, Zara Kimono T-shirt, £17.99, Miss Selfridge Breton Stripe Sleeve Top, £18, Boden Short Sleeve Breton, £22 , Land's End classic sailor tee, £29.95, Uniqlo cotton cashmere striped dress, £29.90, Seasalt Cornwall Sailor Shirt, £29.95, Wood Wood at Zalando, £65

Like this? Then you might also be interested in...
So It Turns Out We Only Need To Shower Every Three Days, Er What?
Love Thy Wardrobe: Seven Super Simple Steps To Sorting Out Your Clothes Storage
No Booze, No Buses, No Tinder: The Realities Of Saving For A Boob Job At 26
At work? With your gran?
You might want to think about the fact you're about to read something that wouldn't exactly get a PG rating