How To Make Yourself Look Fresh At Your Desk When You're Actually Dying From A Hangover
The Debrief: A fresh face will be yours with minimal, non-vom inducing effort.
It's 9am and you're sat at your desk struggling to come to terms with life because you stumbled home at 6am after heading out for 'just the one' last night. Fast forward nine hours and you're a bottle of wine, one WKD, three doubles and a McDonalds happy meal down, rolling into your flat. We've all been there. And you can pretty much get away with it once you've sorted your hair, brushed your teeth and decanted a bottle of perfume onto your body, but then there's the small matter of your face, because that grey skin does not scream rested and awake. Luckily, make-up artist Lucy Pearson and I have got your back so here's how to look fresh when you're pretty sure you have a fag end somewhere in your hair.
Before you start you'll need:
An illuminating primer
Eye drops (for an extra bit of help)
Mascara
Bronzer (and brush)
Nude coloured eyeliner
And this is how you do it:
Step One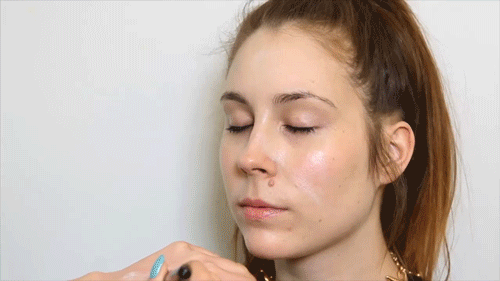 It's tempting to go for a full face of foundation but try to resist - it'll be far too obvious that you're trying to hide something. Instead, conceal all the major offenders (dark circles, blemishes and redness) using something like the Rimmel London Wake Me Up Concealer, £5.49. Then you want to attempt to make your skin glow. M.A.C Strobe Cream, £24.50 is really pigmented but desperate times call for desperate measures, okay? 'Concentrate on the high points of the face like the tops of the cheek bones, the brow bones, bridge of the nose and the chin,' Lucy explains. Don't apply it to the whole face because you'll just look like you've got alcohol sweats (which you probably do).
Step Two
These next two steps are all about making your eyes look awake because you're totally not hungover, remember? Start with some eye drops; Lucy loves the Blink Refreshing Daily Eye Drops (20 x 0.5ml), £6.49 because they're super portable so you can keep them in your bag ready for your next all-nighter. Next apply some mascara to open up your eyes. Use something like Max Factor's Masterpiece Transform Mascara, £9.99 and make sure you apply it to the lower lashes too because it'll help the 'doll-eye' effect.
Read More: Six Second Hacks: Four Ways To Deal With A Shitty Grown-Out Fringe
Step Three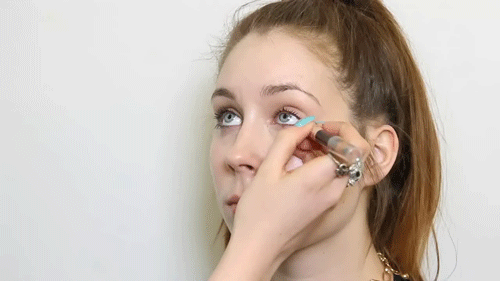 You'll want a flesh coloured eye pencil for this part. 'Make sure it's flesh coloured, though, not white because it'll look fake!' Lucy warns. The Maybelline Big Eyes Liner, £4.99 is great because it has a black kohl on the other end so you're basically getting two for one.
Step Four
Almost there… Finish off by adding some warmth back into your skin using a bronzer like M.A.C Mineralize Skinfinish in Global Glow, £23. Dust it over your cheeks and temples with a big brush to make sure it's really natural. The Real Techniques Retractable Bronzer Brush, £13.99 is perfect and travel friendly too. Now you're done you'll pretty much look like you've just rolled in to the office after two weeks in the Maldives. Kind of.
Like this? Then you might also be interested in:
From Grey To Glow: How To Brighten Your Skin From Your Desk
Six Second Hacks: We Try Out Kylie Jenner's Humongous Lips On Vine
From Desk To Disco: How To Do The Ultimate Party Eye At Work
Follow Chemmie on Twitter @chemsquier
Video: Andy White
At work? With your gran?
You might want to think about the fact you're about to read something that wouldn't exactly get a PG rating