How To DIY Your Own Triangle Lace Bra
The Debrief: A sassy lace bra can come cheap, you just need to do a bit of DIY
They say it's what you're wearing underneath that can make you feel oh so great in any outfit. So treat yourself by wearing something sexy just for you. Because you're worth it. Or something like that.
'Upcycling' an already made bra is so much easier than buying all the components; clasps, hooks and eyes etc etc. Frankly, ain't nobody got time for that.
Here's how how to sex up one you already own.
1. Take a plain triangle bra that needs a lil' jazzing up
2. Cut out each 'cup' area with fabric scissors, cutting close to each seam (fabric scissors are sharp and precise, so will give a great finish). Do the same with the underarm section, so you have 'cut out' areas to fill with your choice of fabric
3. Here's where you have oh-so much choice. We loved the idea of putting a simple lace trim, like this one from Ebay, or filling both cups with a solid black lace or polka dot tulle. We settled on a white sheer organza fabric, very luxurious looking without the price tag (half a metre will more than suffice for a triangle bra).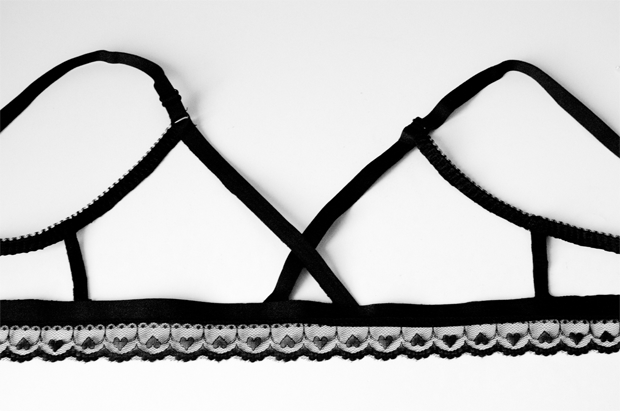 4. Lay your choice of fabric on a flat surface, with the cut out bra on top. You don't want to sew the fabric completely flat, to leave room for boobage (such a great word). So 'pinch' the fabric so that it gathers within each cup. Little pinch – little boobage, big pinch…you get the idea…
5. Pin along the remaining structure, to secure the fabric for sewing. On a sewing machine (or by hand) with the same coloured thread as your chosen bra, sew along the centre of each strap, in a straight line. If using a sewing machine, finish each line with a few backwards stitches, if hand sewing, knot and finish.
6. When all cut out areas have been sewn, turn the bra over, and using fabric scissors cut off the remaining fabric. You could leave it there, but we were feeling extra opulent and decided to add a floral lace applique embellishment to the cups. You can get these super cheap on eBay, and they really add a glamorous touch.
7. Position your applique over the first cup (the lace we used was quite large, meaning it would cover both cups) position where you desire, pin to the side of each seam, and cut off any excess. You should be left with more than enough lace to repeat on the second cup. On your sewing machine (or by hand) sew over the lace into the seams on each side of the bra, until the applique is fully attached.
Voulez Vous Coucher Avec Moi, Ce Soir? In this bra? Oui Oui.
Follow The Debrief on Pinterest:
Follow The Debrief UK's board Debrief Does DIY on Pinterest.
Liked this? Then you might also be interested in...
Thank God It's Payday! Now Let These Fashion Faces Show You What To Buy This Month
Debrief Drunk Makeup: We Test What Blushers Work Best When You're Hammered
Five Easy Ways To Pimp Up Your Boring Jeans And Make Them Look Sassy
Follow Jenny on Twitter @JennyBrownlees
At work? With your gran?
You might want to think about the fact you're about to read something that wouldn't exactly get a PG rating