High Heels To Wear If You Don't Like High Heels
The Debrief: Maybe you're going out and everyone else is going to be wearing heels, maybe you just wanted to get onto the red carpet at Cannes JEEEZ. Here are some heels to wear if you don't normally like heels
Some of us are not into wearing heels. There are obvious reasons for this. They hurt, they're too glam for the bars you go to, and trainers are 10x more comfortable.
Sadly, sometimes they're the only appropriate option. Whether everyone on WhatsApp has said they're wearing heels tonight, or you're just trying to get on to the red carpet at Cannes, JEEZ, here's how to get away with wearing them when you aren't a heels girl.
Heels don't have to have to equal tight dresses and loads of bling. Style yours with a pair of tailored trousers for a look befitting any big night out. No body-con required!
Make like Rachel-Mae, and add some sporty vibes to your look with retro sports socks. Probably best to go for a fresh pair, rather than vintage.
Turn your low heels into a statement and accessorise your ankles with an old headscarf. You might even have one still lurking about from your emo phase. (Or from issue one of S Club Style Magazine)
Seventies style is huge this summer, and Liv's comfy suede heels make for perfect daytime wear. Maybe still bring your bus pass out with you, just in case.
Block mules are a comfortable alternative to the stiletto heel. Dress up jeans and a tee with a bright white pair and a patterned duster.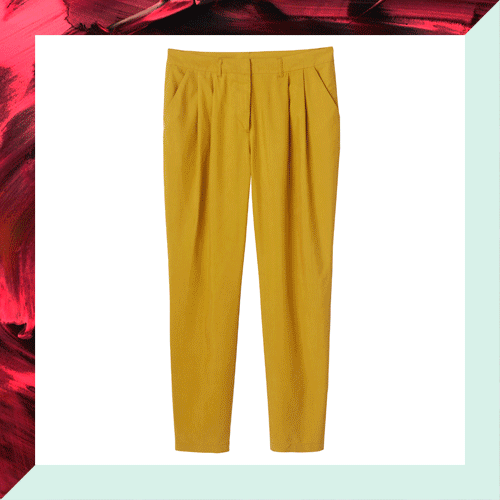 Trousers, £35, Monki; Red Sandals, £195, Russell & Bromley; Black High Heels, £29.99, Zara; Socks, £7, Adidas; Bandana, £6, ASOS; Purple Sandals, £22.99, New Look; Off Shoulder Dress, £15, Boohoo; Bronze Sandals, £55, Topshop; Kimono, £68, The White Pepper; Crossover Mules, £135, Urban Outfitters
Liked this? You might be interested in:
Here's A Reminder Why Cannes' No-Heels Rule Is Bullshit
Another Good Reason To Wear Only Flats
Follow Holly on Twitter @hollyhobkirk
At work? With your gran?
You might want to think about the fact you're about to read something that wouldn't exactly get a PG rating