Here's What To Put With Your Old Boyfriend Jeans For That Night Out This Weekend
The Debrief: We take one item you already own, and add other stuff you already own to wear with it this weekend
Because boyfriend jeans are slouchy, they're the stoners of the denim world. It's easy to think they can only be worn when you're loafing around the house, mooching around on a Sunday, or decorating. I momentarily lost my mind and put on £150 worth of bf jeans to do some DIY, before I realised I wasn't Kim Kardashian and I should probs save them for best.
Once you get into the habit of wearing bf's rather than skinnies, you never go back. But it can be hard to know what to wear with them so that you look presentable to the outside world, let alone look hot at a house party. Or a bit cooler than usual for the pub. Basically, you don't ever have to take them off.
Start by digging them out, and rolling the hem up. You're looking for a slightly turned up hem effect, not a full on B*Witched set of pedal pushers. If yours are too well-loved (you know the sort, old and weathered and a bit gross like that teddy bear you still have stuffed in your wardrobe but can't throw out), then check out this pair from H&M.
Jeans, £29.99, H&M
Now we do the math-sy (totally a word!) bit.
Start trawling through your shoe pile for those summery wedges. Wedges feel a bit less J-Lo than full on stilettos, and you want some sort of a heel.
To your wedges, add a denim clutch (you see how we're going for that whole dressed down, luxey vibe?) or if you don't have a denim one, something canvas-like or a bit ripped up. You basically just want an evening bag in an casual fabric so you don't look like you got lost on your way to the Ritz and stumbled into a pair of jeans.
Next, pull on that off-the-shoulder top from festivals gone by. Off-the-shoulders are great because they're a bit sexy without you feeling awkward – it's hard to feel self conscious about the two joints holding your arms on. Plus, they're often loose, which works with the easy breezy vibe of your jeans.
The last bit? Add a bit of attitudinal bling. Something chunky, so it works with your tomboy bottom half, like a pair of big earrings, or a heavy watch. Throw on your denim jacket if you want to rock the double denim look as a last flourish, or a biker jacket, and you've done it. You've sneaked your bf's out of the house.
Looking to buy some new stuff to go with your jeans? Here's your shopping list.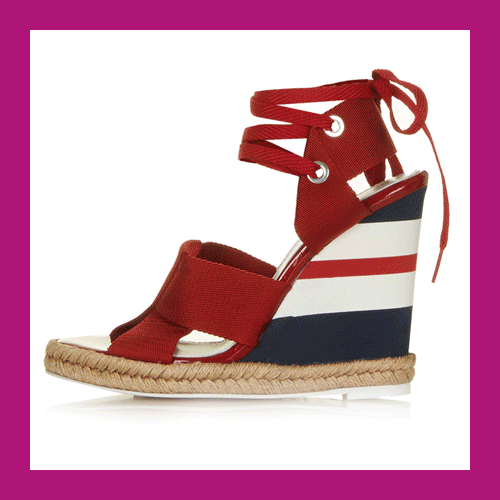 Clutch bag, £100, Whistle; Wedges, £135, Topshop; Earrings, £79, Astrid & Miyu; Top, £30, Asos
Liked this? Then you might also be interested in...
So It Turns Out We Only Need To Shower Every Three Days, Er What?
Love Thy Wardrobe: Seven Super Simple Steps To Sorting Out Your Clothes Storage
No Booze, No Buses, No Tinder: The Realities Of Saving For A Boob Job At 26
Follow Charlie on Twitter @Charliebyrne406
At work? With your gran?
You might want to think about the fact you're about to read something that wouldn't exactly get a PG rating