Fashion Editor Alex Fury Tells Us All About His Favourite Vintage Shopping Spot, Unsurprisingly It's Ridiculously Cool
The Debrief: Because he's the most knowledgeable guy in fashion
People who don't work fashion are always a bit surprised when I say one of my favourite fashion editors is a guy. Alex Fury, Fashion Editor at The Independent, is pretty much an encyclopaedia when it comes to anything style related, he has the last few hundred years of designers and trends tucked away in his own head (plus he looks just as good in jewelled Prada on the Frow as any girl I've ever seen) so he's basically the go-to guy for knowledge on vintage clothing.
We asked him where we should go to buy designer vintage clothing that you can actually afford (with a bit of savvy saving up) and he came up with William Vintage - which you can even shop from online. 'WilliamVintage consistently amazes me with its selection of archival clothes,' says Alex. 'The owner, William Banks-Blaney, has a fantastic eye and a sense of what's current in fashion at the moment, albeit reflected in the past.' As usual, he's not wrong. 'The mix is amazing – pieces from Dior and Balenciaga, turn-of-the-century Fortuny and fifties Chanel (designed by Coco herself) mixed with more recent pieces by Oscar de la Renta, Yves Saint Laurent and Halston as well as lesser-known designers.'
Not all of the clothes are by brands you will have heard of, some are from the 'Great Unknown' - either uncredited or by obscure designers, but still incredibly well-made, having stood the test of time. Still unsure about whether you want to invest in vintage? 'For about the price of a high-end contemporary dress, you can kit yourself out in a piece of fashion history,' Alex explains. Makes sense to us.
Here are Alex's top picks from WilliamVintage right now.
This Awesome LWD
Dress, £425
'Geoffrey Beene is an American fashion legend, whose work is majorly underrated. This brocade dress, studded with spherical buttons, is a brilliant White Christmas outfit. Also perfect for a bride. If you're stuck and in a Mod mood.' There you have it girls, if your bf pops the question over Xmas, you know where to head.
The Sixties Day Dress
Dress, £375
'A fantastic example of WilliamVintage's signature 'Great Unknown', this piece nods to the sixties without making you look like a Twiggy redux. Hedi Slimane (who heads up YSL) would probably strangle babies to get his hands on the pattern.'
READ MORE: We Went Backstage At The Victoria's Secret Show And Played 'Would You Rather' With The Angels
A NYE Sequin number
Dress, £325
'This is an amazing sequin-embellished brocade dress that, for me, chimes perfectly with the winter Miu Miu show. Wear with an anorak and high-heeled wellingtons. Or for New Year's Eve, if you want to be more normal.'
An Actual Piece Of Real Life Halston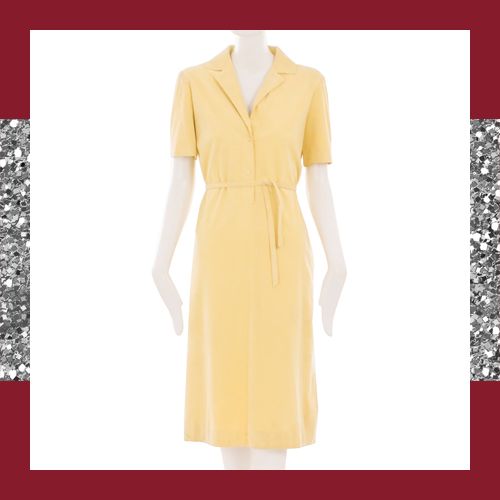 Dress, £325
'It's amazing to find an affordable and adorable dress by Halston – the great American designer of the 1970s – let alone a slinky, Safari-ish number in his signature Ultrasuede. It's textbook Halston. A talent who continues to influence designers as diverse as Tom Ford and Altuzarra, as well as the way an entire generation of New York nightlife frockedf-up, this dress is a true American design classic.' So now you know.
A Bit Of The Good Life
Dress, £225
'I love Alison Steadman in Abigail's Party, and Margo from The Good Life (particularly when she cancels Christmas due to the tree being six and a quarter inches too short). I could imagine either of them swanning about in this balloon-sleeved velvet and lurex number from John Bates' Jean Varon label.'
Like this? Then you might also be interested in...
We Predict What Mulberry Bags Will Look Like With Their New Creative Director From Celine
So Nipple Pasties Are Now Totally A Fashion Thing, But Would you Actually Wear Them?
Always Thought Sequins Were A Bit Naff? Well We're Here To Prove You Wrong
Follow Charlie on Twitter @Charliebyrne406
At work? With your gran?
You might want to think about the fact you're about to read something that wouldn't exactly get a PG rating