DIY A Trophy Jacket And Look Just Like Cara Delevingne
The Debrief: It's actually easier than you think...
I've always wanted to be important enough to have the name on the back of a jacket. My first ever style crush, Grease 2's Stephanie Zanoni, rocked her personalised pink lady jacket all over Rydell High, and found her true dreamboat boyf Michael, easy as that.
And just when I got over the childhood pain of not finding my name of one of those oh so sassy velvet hairbands of the 90's, the trend comes round again. Fashion week gave us a monogram model army at Burberry, with customized blankets being added to our ever growing fashion wish lists. (It's all Cara D's fault, I tell you...)
The monogram reined on, with Anya Hindmarch creating oh so cool colourful letter patches, and the trend was cemented when Rag and Bone sent their models down the catwalk in customised bomber jackets. Soon every fashionista worth her stripes was street style pap'd in all her custom glory and we were jealous.
We had to take matters into our own hands. Here's how you can too.
Step One
Take one bomber jacket - we got ours from ASOS Marketplace's House of Jam. Then select your letters, we used these from Ebay but for a varsity style, you could try these from amazon. Alternatively, you could just buy the first letter of your name for the front of the jacket, for a subtle take on the trend.
Step Two
Step Three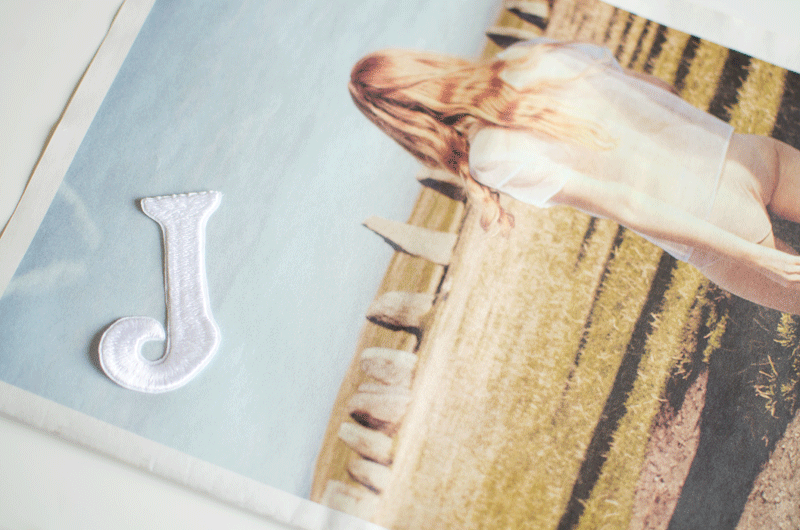 Iron your jacket first, setting it to high, with steam. Lay the jacket flat on a hard surface, and arrange your letters (from left shoulder to right obvz) in the layout you desire.
Strep Four
Always follow the instructions that accompany the letters you bought - ours were as follows: Peel off the sticky back from each letter (we did one letter at a time, for accuracy), Place each letter down flat, in the desired position and apply some pressure. Cover with a damp cloth (we used a tea towel) and iron for 10 seconds, pressing lightly, repeat this step three times.
Step Five
Check that the letters seem firmly in place, if not repeat until they are firmly stuck in place. Repeat for each letter. Voila! You are basically as cool as Miss Blue Ivy Carter (nope, you're not a baby - she's got a jacket like this too).
Don't fancy the DIY bit but still want people staring as you walk away? Never fear, check out these statement back jackets that require no effort at all:
Black jacket, £45, Olive & Frank, denim jacket, £250, Popseecul, khaki jacket, £85, Asos Reclaimed, purple jacket, £300, House of Holland at Urban Outfitters
Like this? You might also be interested in:
WTF To Wear Now It's F**king Freezing But You Want To Dress In SS15 Trends
Always Thought Sequins Were A Bit Naff? We're Here To Prove You Wrong
This Danish Shop Will Actually Make You Look Like One Of Those Super Cool Scandi Girls
Follow Jenny on Twitter @JennyBrownlees
At work? With your gran?
You might want to think about the fact you're about to read something that wouldn't exactly get a PG rating