Snapchat Has Now Introduced Animated Emoijs To Its Repertoire
The Debrief: Snapchat can now do your online shopping and walk your dog. Not really, but it can do this
Small, innocuous, decorative … are three things that emoji's definitely ARE NOT anymore. Thanks to new software introduced by Snapchat this week, your most-loved emoji's are now the star of your Snapchat show (so yeah, that's no longer you, soz)
The social-media giant released this clip of an IRL cat, wearing an emoji cat's head, to promote the new feature. Rather than just being able to incorporate STILL emoji's into STILL snaps, users can now place their favourite icons over moving images or video's.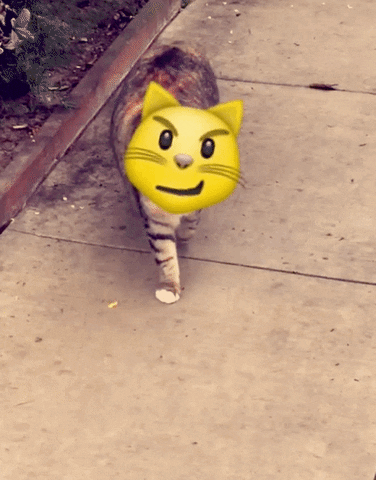 I'm not sure when, or why (mainly why, to be honest) Snapchat became the epicentre of the media-consumption universe. But over the past few years their updates have become increasingly ambitious, with video calls, audio notes and hundreds of stickers added to it's repertoire in the last month. It wasn't long ago that Snapchat was for drawing willy's on sleeping people's heads with their shakey pen tool. Now it seems like you could run a country from it.
Anyway, as usual social media has given us the best insight into how the update is going down with most people...
DAMN @Snapchat back at it again with the dope updates - Snapchat now lets emoji follow you around inside a video https://t.co/lKp3G2ml88

— Casey Neistat (@CaseyNeistat) 13 April 2016
Rude that there is a snapchat update only for andriod and not for iOS

— ELINA (@tvtvElina) 14 April 2016
This is the first time snapchat has actually made a useful update

— eann (@itseann) 14 April 2016
It seems to have gone down a lot more positively than their last update earlier this month, when they introduced a looped stories function.
This snapchat update would ruin everyone's lives lol pic.twitter.com/j6FWW01Hlh

— Indian Stats (@Indian_stats) 9 April 2016
When you were tryna avoid someone but you accidentally watch their snapchat story bc of the new update pic.twitter.com/4HskFMsW66

— Ovais Sheikh (@OvaisBowss) 9 April 2016
This comes in the midst of what is turning out to be a pretty enthralling social-media war between Snapchat and other platforms. Recent data has revealed that Snapchat has overtaken Instagram in the popularity steaks among teenaged users, and its chat function is causing tension with instant messaging app WhatsApp as well.
Like this? Then you might also be interested in:
Kim And Kourtney Kardashian Have Done The Most Sucessful Face Swap Ever
How This Genius Snapchat Helpline Is Helping Young People In Abusive Relationships
What Exactly Is This Whatsapp Encryption Thing?
At work? With your gran?
You might want to think about the fact you're about to read something that wouldn't exactly get a PG rating