The Backstreet Boys Are The Best Dancers This World Has Ever Known. Fact.
The Debrief: Here's their best moves; from the soaring swan to the disco in the woods
ICYMI, last night, the much-awaited Backstreet Boys documentary premiered in LA and oh my, how much do I want to see it? (A lot, that's how much).
Anyways, basically I spent the morning not doing work and trying to remember the best of the best of BSB's dance moves and this is what I came up with.
The Front Crawl
A move not commonly seen and perhaps for good reason. It is after all, more Michael Phelps than Michael Jackson. Still, points for trying lads, and the old twist 'n' wrist cross to finish it off is an innovative way to polish a turd.
The 'El Classico'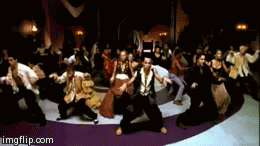 The lads' signature move that was copied in school discos across the land throughout the late '90s and early '00s. It's as ubiquitous as *NSYNC and their puppet dance, Britney and the Oops I Did It Again pivot or Westlife doing erm, nothing.
The Soaring Swan
Graceful, elegant and full of hope. This move, teamed with the baggy jeans and deep blue background is the perfect visual representation of the boys rising out of the ashes of a broken heart and looking forward to their Next Great Love (aka you).
The Grand Sweep

Used to represent the unimaginable scope of the boys' potential love for you if you'd JUST LET YOUR GUARD DOWN AND LET THEM IN.
The Disco In The Woods
Off-the-wall dance move or the time the lads took ecstasy and got lost on the way to a rave in a field? You'll never know and that's the whole beauty of it.
Like this? Then you might also be interested in:
Friday Rewind: The Playlist From Back In The Day But, Like, Today. This Week: Girls Aloud, T.A.T.U.

A Second Line In Your Room, 141, And The Painful Sound Of Dial Up Internet In Your Ear. Ah How We Miss Our Landlines.

What Your Cringe Noughties Email Address Said About You
Follow Jess on Twitter @Jess_Commons
At work? With your gran?
You might want to think about the fact you're about to read something that wouldn't exactly get a PG rating