Kristen Stewart Calls Bullshit On Always Being Asked About Her Sexuality
The Debrief: The actor has told Nylon magazine that she's just doing her job
In the September issue of Nylon, Kristen Stewart has become the latest in a line of female celebrities to vocalise her frustration about always being asked about her private life.
'If you feel like you really want to define yourself, and you have the ability to articulate those parameters and that in itself defines you, then do it,' the star of Twilight, One The Road, The Runaways, Still Alice and American Ultra told interviewer Margaret Wappler.
'But I am an actress, man. I live in the f--king ambiguity of this life and I love it. I don't feel like it would be true for me to be like, "I'm coming out!" No, I do a job.'
Famous women, from Jennifer Aniston to our very own Keira Knightley, have started to push back at the endless list of questions female stars are subjected to about their sex life, marital status and feelings towards children.
Stewart herself has parodied this approach in that brilliant gender-swap video she did earlier this month with American Ultra co-star Jesse Eisenberg.
While Stewart has been open enough about her love life in the past – apparently, when asked if she wanted to make any big pronouncements in Nylon about her sexuality, her response was: 'Google me, I'm not hiding' – there's still feverish speculation among much of the media about the nature of her relationship with her personal assistant Alicia Cargile. Which is what it is.
But, as Stewart says in Nylon: 'I've worked really hard at feeling free and open while not selling it, or helping someone else sell it.'
For now, her private life is staying – as far as it can – private.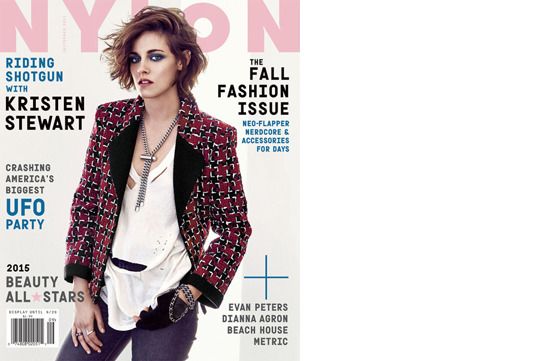 The Steptember Issue of NYLON is out now, read the full interview here.
Like this? Then you may be interested in:
Kristen Stewart and Jesse Eisenberg's Gender-Flipped Interview Is LOL
Kristen Stewart's Officially Bisexual, According To Her Mum. So, What Happens Now?
Cara Delevingne's Been Out This Whole Time She Just Never Said So
Pictures: NYLON/Olivia Malone
At work? With your gran?
You might want to think about the fact you're about to read something that wouldn't exactly get a PG rating