Kelis Has Never Made A Milkshake, In Her Life. Ever
The Debrief: We've all been living a lie
Thirteen years ago Kelis' milkshake brought all the boys to the yard. Today, we find out it's all a lie. One massive milkshake lie, hat Kelis has been holding in for 13-long-years - even after she switched careers and became a chef.
If you have no idea what we're on about, remember back in 2003 when Milkshake was released and we began singing the lyrics: 'my milkshake brings all the boys to the yard, and they're like it's better than yours. Damn right, it's better than yours, I can teach you but I have to charge.' OK, we'll stop now but nonetheless, those lyrics made up the start of our teenage years. We sung them (badly) on the school playground-turned-yard and our milkshake didn't bring a single boy to the yard because it was all hypothetical.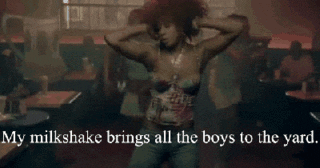 Well, it turns out Kelis has never actually tried a milkshake, in her entire life. So clearly her milkshake didn't bring a single boy to the yard either. During a recent interview for the Guardian Kellis let slip when asked what ingredients she would put in a milkshake. Her reply ? 'I don't think I've ever made a milkshake.' Wait sorry what now?! We're as shocked as you that this Grammy award winning (best urban/alternative performance FYI) song has no truth to it.
She has made a smoothie though, it had protein powder, spinach, orange, crushed ice, honey and coconut water in it, fancy AF. Throw in some milk and you've basically got yourself a milkshake Kelis, you can do this.
Like this? You might also be interested in…
Man Goes To McDonalds For A Milkshake. Gets Way More Than He Bargained For
Banana Milk: The New 'Milk' That's Ridiculously Easy To Make
Here's How To Get The Best Milkshakes With Booze This Country Has On Offer
Follow Alyss on Twitter @alyssbowen
At work? With your gran?
You might want to think about the fact you're about to read something that wouldn't exactly get a PG rating