Apparently Hailey Baldwin's New Haircut Is The Chop Of 2017 - We Disagree
The Debrief: According to Vogue.com, '2017 is the year of the sheared, layered chop' aka the Hailey Baldwin.
According to Vogue.com, '2017 is the year of the sheared, layered chop – at least in the world of Hailey Baldwin?' Confused? Take one look at the models latest Instagram post and all will become crystal clear.
Hailey is sporting what appears to be the ultimate 2007 emo bangs, totally inconvenient for everyday life and probably not the haircut we want this 2017. Of course she looks fantastic, because she's Hailey fricking Baldwin, and when does she not look like a beauty queen? But can we just take a second for the impracticality of this haircut?
Firstly, this is not appropriate for the tube. Picture yourself stuck by that little tiny 'window' at the end, winds a blowing and that fringe is too, all over your face. Hair in your mouth, messing up your make-up. No thanks. What if you're a glasses wearer? I wear glasses on the odd occasion my contact lenses decide to give up, and I can confirm this look would not bode well. The fringe would be elevated off my face and no one wants that.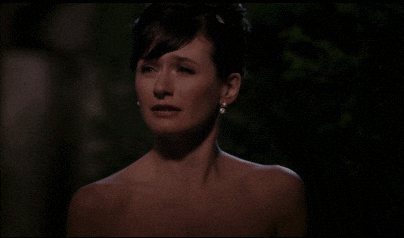 Or perhaps you just want to be able to see? Hands up if you want to be able to see? I would have my hands up had I not have punched the living daylights out of a punch bag at a boxing class this morning – even typing is a struggle – but you get the picture. How is Hailey seeing right now? This 'updated rendition' as Vogue calls it, we're assuming they mean updated from that time we used our mums scissors to chop our own grown-out fringes into a severe side fringe, is great for a selfie but please world please let's not bring this back as the look of 2017. Hailey, we salute you and your fringe looks great, but we'll keep our full-fringe. Cool, thanks.
Like this? You might also be interested in…
'The Climate Is All Wrong.' And Other Daily Fringe Frustrations
How To Have A Fringe Even If You've Got Thick, Wavy Hair
Kim Kardashian West Is Trying To Bring Nail Piercings Back From The 2000s
Follow Alyss on Instagram @alyssbowen
At work? With your gran?
You might want to think about the fact you're about to read something that wouldn't exactly get a PG rating