A Good Wife Spin Off Might Be Happening With This Character And We Can't Handle
The Debrief: Is this not the best news you've heard all week?
I haven't finished The Good Wife yet. I'm very nearly there but have been purposefully not streaming the final season because life without Alicia and co seems pointless. It's been an extremely tough, emotional ride, for me not the cast. There have been tears (many, actually), particularly in season 6, lots of joy and a whole bunch of satisfaction to see the women in the show repeatedly kick serious ass.
So as you can tell, the thought of it ending is all a little too much and I'm not ready to come to terms with that yet. But now I might not have to. It's only been reported that there is a proposed spinoff in the works.
And guess who might be the lead…wait for it…a lil bit more…OK it's time.
Diane fricking Lockart, aka the baddest superhero lawyer to have ever walked into a court room.
According to Variety, the spinoff will focus on Christine Baranski's character, and will air on CBS All Access – which we will obviously all be downloading immediately (lol jk, we'll be streaming it mate). British actress Crush Jumbo is also expected to be involved. I'm yet to meet Crush's character but my deputy editor, Jess, tells me she's great and she's as obsessed with the show as I am so I'll take her word.
Source are keeping tight lipped about the whole thing, but The Good Wife co-creators Robert and Michelle King are likely to co-write it, so that means we're in for another craaazy ride. Is this not the best news you've heard all week? It's still not 100% but it's enough to keep me going and now that I can rest easy in the knowledge that there is life after the finale of The Good Wife it's time to finish the season. Diane, I'll be waiting for you to return to my screen very very soon.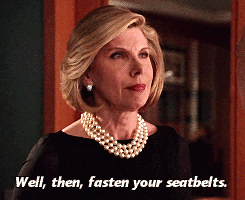 Like this? You might also be interested in…
Here's What All The Characters From Lizzie McGuire Look Like Now
Whaddya Mean You Aren't Watching The Good Wife? Season Five Starts Tomorrow – Here's Your Cheat Sheet
7 Upcoming True Crime Documentaries To Get Obsessed With
Follow Alyss on Twitter @alyssbowen
At work? With your gran?
You might want to think about the fact you're about to read something that wouldn't exactly get a PG rating